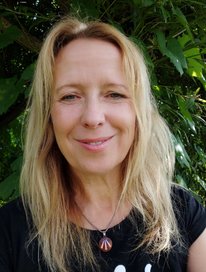 Discovering and following the path of my soul and becoming more and more my true self is an exciting task in my life. After beeing a rebellic-teenage eco-activist and later a landscape architect I found in my mid twenties a deeper connection to nature to guide me on my way.
Starting with the magic of the herbal plant world, discovering old celtic wisdom, this connection finaly lead to the nature spiritual path of druidry, which combines both: Love of nature and becoming aware of who you are to lead a joyful magical life.
Becoming aware of the own self is an amazing adventure. Sometimes painful in discovering old woundings and destructive patterns, joyful in recognizing values and talents and liberating in solving attachments and behaviour not belonging to oneself anymore. Fulfilling to shine more and more in your true own light and living the life that is truly the own as well.
Connecting in a deep way to nature creates the basis for this adventure. Centered in the wisdom of mother earth, nourished by the energy of plants around us, connected to the always turning wheel of the year, nature is an amazing teacher and haven at once for awareness and personal growth.
Training in personal development, nature spirituality, magic and techniques for transformation in many courses, workshops and books I started in 2007 to share my ongoing experience in teaching, encouraging and inspiring other seekers on their path. The power of archetypes, carmic patterns, healing family attachements, the magic of plants and landscape, rituals in nature, the warrior dance of HAKA and my love for life and people are my favourite tools to do so.
I am a certified eco-pedagogue, life-consultant and I studied druidry with the Order of Bards, Ovates and Druids (OBOD). Weaving my experiences together creates the inspiration and teachings we are offering at the celtic school of nature spirituality.